AMABL250Fx750 Lathe (10x22) Variable Speed Power Crossfeed Brushless Motor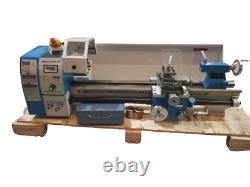 AMABL250Fx750 Lathe (10x22) Variable Speed - Brushless Motor. NOW WITH DIAL THREAD INDICATOR, POERCROSSFEED& TAILSTOCK LEVER LOCK FITTED AS STANDARD! The AMABL250 from Amadeal London UK.
Excellent quality - Terrific price! The price has been held down as much as possible and these sell fast - so don't miss out. And until you hear it you won't believe how quietly it runs - it purrs! Fully guaranteed and a full range of spares available. Most useful, heavy duty homeshop lathe.
V-way bed is hardened and precision ground. Automatic feed and threading are fully interlocked.
Top design of gearbox for improved function. Cuts right and left hand threads. Tailstock may be offset for turning tapers.
A reversing switch is included for added versatility. Equipped with high quality belt and control board. Tolerance test certificate, test flow chart included. 1500 x 560 x 570mm. Please note that specifications can vary from the above and should be treated as a guide.
Postal costs to customers in Italy will also be liable to a surcharge for items sent by post to cover the cost of'International Signed For'.