Variable Frequency Drive 7.5KW Vector Inverter Motor Speed Converter 3PH AC380V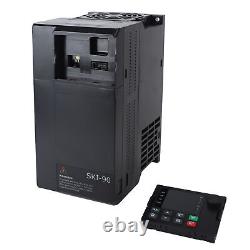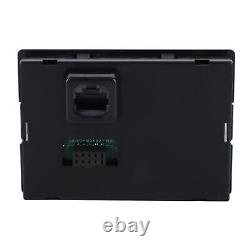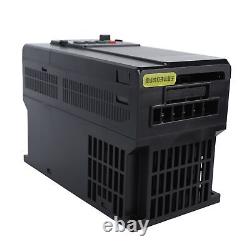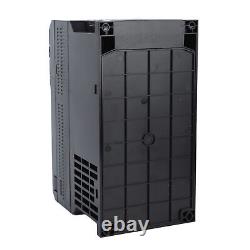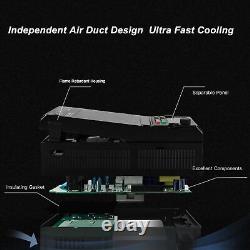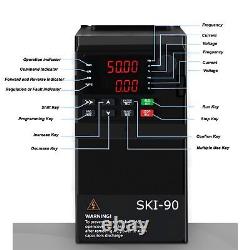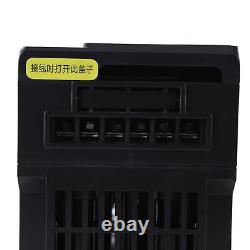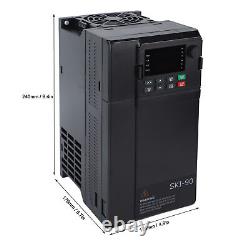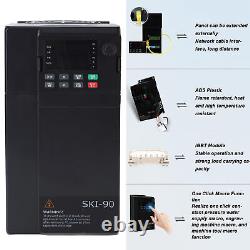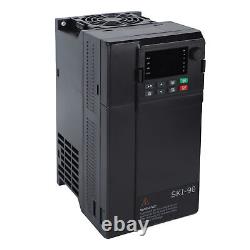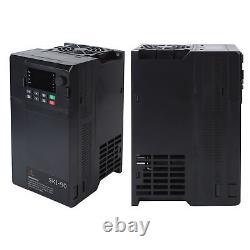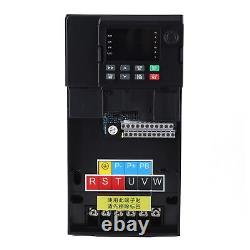 INPUT AND OUTPUT: The input voltage is 3PH AC380V, the output voltage is 3PH AC0-380V, suitable for 7.5KW 10HP motors to achieve motor speed regulation. DIGITAL DISPLAY: The frequency converter adopts double row digital tube display, which is clear and intuitive, the button operation is simple and convenient. FAST HEAT DISSIPATION: The inverter adopts independent air duct design with good stability and rapid heat dissipation to prevent the machine from overheating. PLASTIC HOUSING: The inverter housing is made of industrial ABS plastic, with strong flame resistance, impact resistance, heat resistance, safe and reliable.
MACRO FUNCTION: It can realize the functions of one button constant pressure water supply macro, engraver macro and machine tool macro, efficient and stable. GOOD PERFORMANCE: The inverter adopts an integrated IGBT module with strong load carrying capacity, good stability, and large low frequency torsion.
Item Type: Variable Frequency Drive Material: Flame Retardant ABS Model: SKI90-7D5G/011P-4 Input: 3PH AC380V±15% 20.5A 50-60Hz Output: 3PH AC0-380V 17.0A 0-400Hz Power Capacity: 11KVA Suitable Motor: 7.5KW 10HP. Overvoltage Suppression Protection: When the bus voltage reaches or exceeds the bus overvoltage suppression point during the operation of the frequency converter, the frequency converter will automatically adjust the operating frequency to suppress the rise of the bus voltage, thereby ensuring that the frequency converter does not cause overvoltage protection due to excessive bus voltage.
Overcurrent Suppression Protection: During operation, through real time monitoring of the load current, it automatically limits it to not exceed the set overcurrent suppression point to prevent fault tripping caused by excessive current. This function is particularly suitable for loads with large inertia or severe changes. External supply of +10V power supply, maximum output current: 150mA (with short circuit protection).
Generally used as an external potentiometer working power supply. External supply of +24V power, generally usedas digital input and output terminals. Power supply and external sensor power supply.
Input Range: DC0-10V 0-20mA, determined by parameter P437. Input Range: DC0-10V 0-20mA, determined by parameter P4-37. Input Impedance: voltage input impedance 22kQ, current input impedance 500? Output Current Range: 0mA-20mA, 4-20mA (P5-23 selectable).
J1 jumper cap on isolated main control board to AO2 position, non isolated main control board. The control board does not have this function. HD1 (X5) can also be used as a high speed pulse input channel in addition to X1-X4 features. Voltage range at level input: 5V-30V. High Speed Pulse Input Terminal. A+ is the positive input of the 485 communicationdifferential signal, B- is the negative input of the differential signal. When used as a collector open circuit output terminal (J1 jumper cap on the 90 isolated main control board to the AO2 position). Restricted by the function code P5-00 HDO terminal output mode selection, output as a high speed pulse with a maximum frequency of 50kHz; When output as a collector open circuit, the same as Y1. Contact Description: A: Common Point, B: Normally Closed Point, C: Normally Open Point. Contact Driving Capacity: AC250V, 3A; DC 30V, 1A. Please be careful when using electricity. Our listing price includes the value of goods, packaging cost, and export. Please check with your country's.
We will reply your message within 48 hours. If you do not receive our reply within 48 hours, pls. Post a message again because sometimes our message system may block some emails. If you are satisfied with our service, pls.
Our aim is to provide Level Customer Service, your recognition will encourage us greatly and serve you better. We strive to keep all our customers satisfy. We will do our up most to exceed your expectations in customer service, communication and dispatching of your orders.