AC Gear Motor Electric Motor Variable Speed Controller Reduction Ratio 160 220V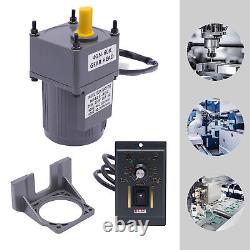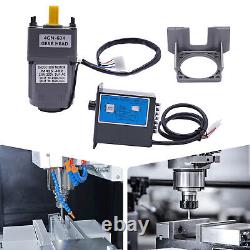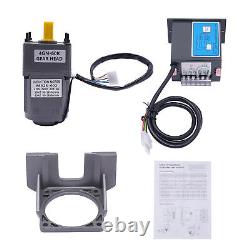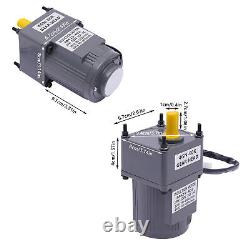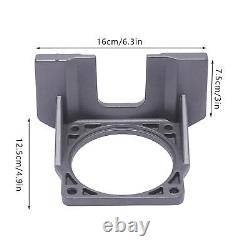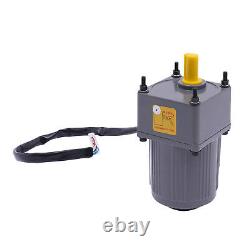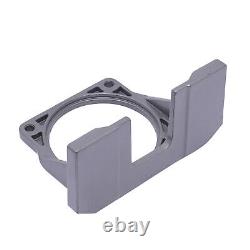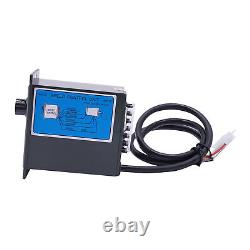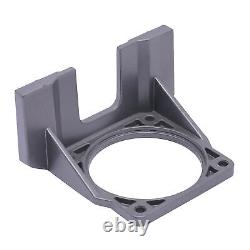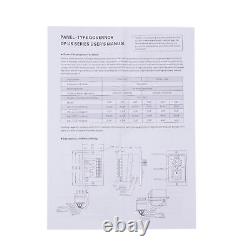 220V 25W AC Gear Motor Electric Motor Variable Speed Controller 1:60 (60K) New. Electric motors are crucial for the operation of equipment. Our 25W gear motor uses a variety of high-quality materials and exquisite processes, with high torque(8Nm) and high rotational speed(90-1650rpm), which can effectively improve work efficiency. The adjustable speed fully meets your various needs. If you're still looking for a powerful motor, it won't let you down. Build to Last: High-quality cast aluminum, plastic spraying, integration, and heat treatment make the product heat-resistant, impact-resistant, wear-resistant, corrosion-resistant, and solid, so it has a long service life. High Efficiency: The 25W power with small vibration, 90-1650rpm rotational speed, 8Nm torque, 1:60 reduction ratio, reversing function that is flexible with normally open and closed control systems, and integrated reducer can effectively improve work efficiency. Adjustable Speed: With a speed adjustment knob with clear prompts, you can adjust different speeds (0-100%) according to different products to achieve the desired effect. Safety Guard: The built-in cooling fan (>60W), cooling holes, stable pure copper coil, and slow start function that can effectively avoid current overshoot and protect the motor timely can ensure safety and prolong the motor's life. Stable Operation: Ball bearings at both ends of the rotor can reduce friction and temperature during use, ensuring stable operation. Convenient and Simple: Complete accessories, simple structure, convenient switch, knob, and detailed instructions allow you to complete the installation and start using it in a short time.
Effortless Cleaning: The smooth surface makes it easy for you to clean the residue with water and a towel. Protective Packaging: The foam and bubble bag can better protect your product during transportation so that it can be delivered to you completely. Compact and Lightweight: With a weight of 5.51 lbs and an overall size of 3.52.43.9inch, it allows you to easily move and carry.
Long Connecting Cable: The 3.28ft cable allows you to have enough disposable length for easier use, and can also further protect your safety. Round Corners: Compared with traditional square corners, an arc design without a burr can better care for your skin. Multiple Power Cords: Different colors of power cords allow you to easily connect them without confusion. Solid Stand: This 6.33 inch stand with two outwardly extending feet can better maintain product stability and ensure smooth operation. This product can be widely used in packaging, machine tools, transportation equipment, textile machinery, automatic welding machines, automotive industry, elevator machinery, printing, textile, dyeing, chemical, food, pharmaceutical, and other engineering machinery, as well as advertising, office, petrochemical, instrumentation, stage lighting, transmission, automated warehouses, parking lots, and other equipment. Please remove the holster before installation. Fix the reducer on the gear motor with four M5 screws(not included). Install the keyway at the keyway opening. Plug the speed controller and gear motor together (main wire to main wire). Unscrew the two AC screws(not included) on the back of the speed controller. Connect single-phase power to both AC ports (without distinguishing between zero and fire wires) and tighten the screws. Turn the speed control knob to adjust the motor speed. Install the stand on the motor. Processes: Plastic Spraying, Integration, Heat Treatment Process. Type: AC Gear Motor, Induction Motor. Suitable Screw: M5 (Not Included). Speed: 50Hz 90-1350r/min, 60Hz 90-1650r/min.
Reduction Ratio: 1:60 (60K). Connecting Line Length: About 1m/3.28ft.
Speed Controller Size: 9610cm/3.52.43.9inch. Motor Size: 6.789.7cm/2.63.23.8inch. Reducer Size: 6.784.6cm/2.63.21.8inch. Stand Size: 167.512.5cm/6.334.9inch.
Stand Top Length: 10.4cm/4.1inch. Package Size: 242412.5cm/9.459.454.92inch.
Net Weight: 2.5kg/5.51lbs. Please strictly follow the instructions for use and installation, and pay attention to the safety precautions inside. Please keep this product away from children, and do not knock on or beat this product. Based on the industrial standard, to meet the different needs of customers, our motor does not include a power cord. M5 screws and plug are not included. The speed reduction motor is composed of a motor and reducer, different speed ratios can achieve different speed regulation ranges, and they have different strengths. Under different deceleration ratios, the output shaft speed is different. The output shaft speed is equal to the motor speed of 1350 rpm divided by the deceleration ratio.
When the gearbox decelerates, the greater the speed ratio, the greater the force. The slower the speed regulated by the governor, the smaller the torque. The motor can run for a long time within the safe speed regulation range. The safety speed range of a small load is 50% of full speed-full speed; The safety speed range of a large load is 70% of full speed-full speed. Please allow the slight color difference caused by the shooting light and 1-3cm error due to manual measurement, and make sure you do not mind before ordering.