Mopar A-body 1964 65 66 Wiper Motor Variable Speed Prestolite Erq-4006 65ps1-1p4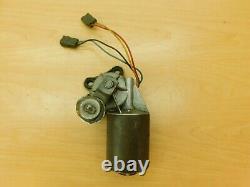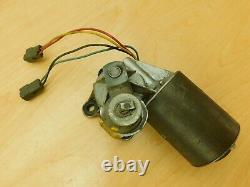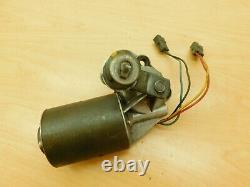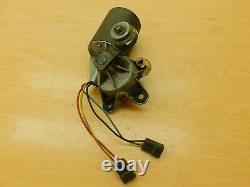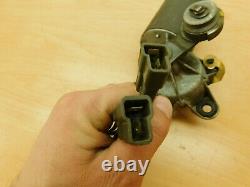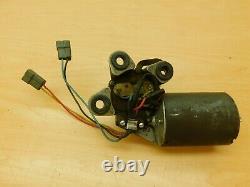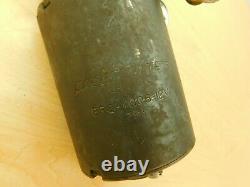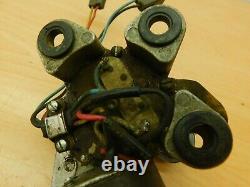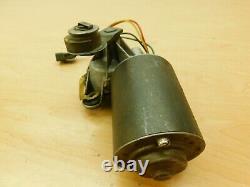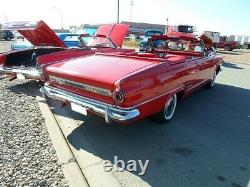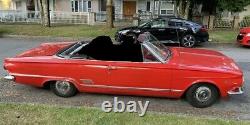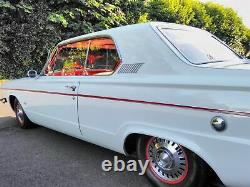 MOPAR A-BODY 1964 65 66 WIPER MOTOR VARIABLE SPEED PRESTOLITE ERQ-4006 65PS1-1P4. THE VARIABLE SPEED WIPER MOTOR FROM THIS CANADIAN 1964 VALIANT SIGNET CONVERTIBLE. TESTED ELECTICALLY AND WORKS WELL, RUBBER MOUNTS ARE AGED. NO ISSUES OR TROUBLES TO USE ON NEXT CAR. THERE ARE LARGER PICTURES OF THIS ITEM NEAR THE BOTTOM OF THIS DESCRIPTION AREA.
THE ABOVE DIMENSIONS HAVE BEEN ADDED TO THIS LISTING. OR CLICKING ON THE LINK HERE -----> 65PS1. OUR CANADIAN BUILT 1965 PLYMOUTH SIGNET CONVERTIBLE CAME TO US AS A DISMANTLED BASKET CASE. SITTING IS BARN SINCE MID 90'S 2ND OWNER DISMANTLED THE CAR. NON TILT, PUSH BUTTON SHIFTER, REGULAR TINT GLASS.
MESSAGE US IF YOU HAVE THAT PROBLEM. WE GLADLY WILL ACCEPT CREATIVE CRITICISM ABOUT OUR LISTINGS. We are Orchard Farmers and Old Car enthusiasts. We have saved all the extra parts from our project-parts cars for many years, We have also saved and collected every parts car we could find for the past 15 - 20 years that was headed for crusher.
We part out these old parts cars to help other enthusiasts save their cars , and to supplement our Orchard Income to feed our family here. We remove items such as. Exhaust Assembly Exhaust Manifold Exhaust Pipe Fender Extension Fender Molding Floor Shift Assembly Flywheel Frame Rails, Upper & Lower Frame, Complete Frame, Section End Assembly Fog/Park/Turn/Marker Lamp Headlamp Assembly Transmission Pump Fuel Cap Fuel Filler Neck Fuel Injection Parts Fuel Injection Pump Fuel Pump Fuel Tank Fuel Tank Sending Unit Fuel Vapor Canister Fuse Box Glove Box Grille Harmonic Balancer Header Panel Assembly Headlamp Cover Headlamp Motor Headlamp Washer Motor Headlamp Wiper Motor Headlamp Wiring Harness Heads Up Navigation / Radio Display Heater Assembly Heater Core Heater Housing Hood Hub Cap Ignition Coil Pack Ignition Control Module Ignition Switch Information Center Inner Fender Inner Fender Liner Instrument Cluster Instrument Cluster Bezel Intake Manifold Intercooler Interior Mirror Interior Parts, Misc. Interior Sun Visor Jack & Tool Kit License Lamp Misc.
Steering Wheel Sun Roof Motor Sun Roof Panel Suspension Compressor Suspension X Member/K-Frame Tail Finish Panel Tail Gate Molding Tail Lamp Tail Panel Tailgate / front Deck lid Temperature Control Throttle Body / Valve Assembly Timing Cover Tire Top Section, Rear Torque Converter Transfer Case Assembly Transfer Case Motor Transmission Control Module Transmission/Transaxle Assembly Trim Panel, Trim Panel, Rear Door Trunk Lid Molding Turbocharger/Supercharger Vacuum Pump Valve Cover Water Pump rim Wheel Bearing, Wheel Bearing, Rear Wheel Cover Window Defogger, Rear Window Washer Motor, Rear Windshield Frame Windshield Windshield Washer Motor Windshield Washer Reservoir Windshield Wiper Arm Windshield Wiper Motor Windshield Wiper Transmission Wiper Motor, Rear Wire Harness, Transmission moulding molding trim carpet headliner dash bezel ashtray glovebox shifter emergency brake e-brake glove box dome lamp dome light clip headliner bows top frame pump trims A Pillar Cut Air Bag Air Bag Control Air Bag Detector Air Cleaner Air Conditioner Compressor Air Conditioner Compressor Clutch Air Conditioner Condenser Air Conditioner Evaporator Air Conditioner Hoses Air Conditioner Wiring Harness Air Flow Meter Air Injection Pump Alternator Automatic Transmission Oil Cooler Axle Assembly, (4WD) Axle Assembly, Rear Axle Carrier Assembly Axle Coil Spring Axle Control Arm, Lower Axle Control Arm, dana spicer corp wagner borg warner Lower Rear Axle Control Arm, front Upper Axle Control Arm, Upper Rear Axle Drive Shaft, Axle Drive Shaft, Rear Axle Hub Axle Hub Outer Locking (4WD) Axle Independent Rear Suspension Axle Leaf Spring, Axle Leaf Spring, Rear Axle Loaded Beam, Rear (2WD) Axle Parts, Misc. Axle Shaft Axle Spindle/Knuckle, Axle Stub, Rear Axle/Suspension Strut Back Glass Back Regulator Backing Plate, Backing Plate, Rear Backup Lamp Bell Housing Belt Tensioner Blower Motor Body Parts, Misc.
Body Wiring Harness Brake Anti Lock Parts Brake Caliper Brake Master Cylinder Brake Parts, Misc. Rear Brake Proportioning Valve Brakes, Braking, Rear Assembly, Assem, assm Rear End Cap Guard, Guard, Rear Reinforcement, Bumper Reinforcement, Valance, Rear Cab Clip Carburetor Center Pillar Clock Clutch Master Cylinder Complete Vehicles for Sale Console Cowl Cowl Vent Panel Crank/Cam Angle Sensor Crankshaft Cruise Speed Regulator Block Cylinder Head Dash Assembly Dash Panel Dash Wiring Harness Decklid / Tailgate Distributor Assembly, Assembly, Rear/Side , Rear\Back , , Rear Handle (outer) Hinge, Hinge, Rear Lock Solenoid Molding, Molding, Rear Side Mirror Vent , Vent , Rear Vent Window Regulator, Window Crank, Window Crank, Rear Window Motor Window Regulator, Window Regulator, Rear EGR Maintenance Reminder Electric Seat Belt Track Electrical Parts, Misc. Electrical Switch Panel Electrical Switch, Column Electronic Chassis Control Modules Electronic Engine Control Module Electronic Parts, Misc. Engine Assembly Engine Mounts Engine Oil Cooler Engine Parts, Misc. The item "MOPAR A-BODY 1964 65 66 WIPER MOTOR VARIABLE SPEED PRESTOLITE ERQ-4006 65PS1-1P4" is in sale since Thursday, January 21, 2021.
This item is in the category "eBay Motors\Parts & Accessories\Car & Truck Parts\Exterior\Windshield Wiper Systems". The seller is "406" and is located in Oroville, Washington.
This item can be shipped worldwide.
Brand: Plymouth , DODGE
Manufacturer Part Number: ERQ-4006-12V
Fitment Type: VARIABLE SPEED
Other Part Number: 293
Surface Finish: ORIGINAL OEM MOPAR PARTS
Country/Region of Manufacture: Canada