90W 220V AC Gear Motor Electric Variable Speed Reducer Controller 270 RPM Torque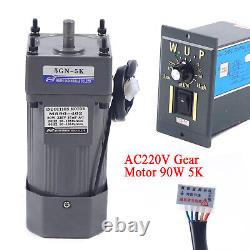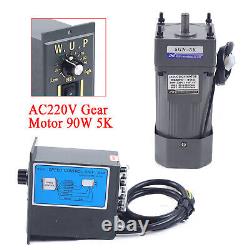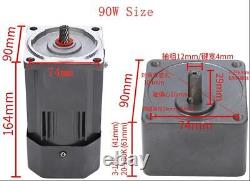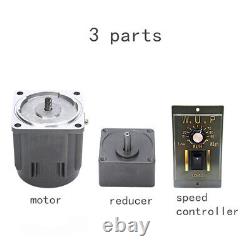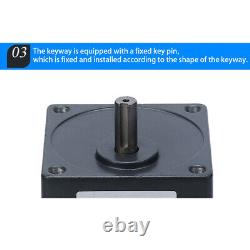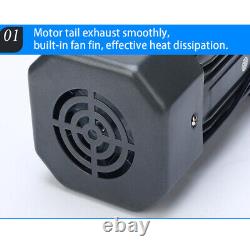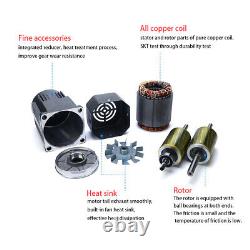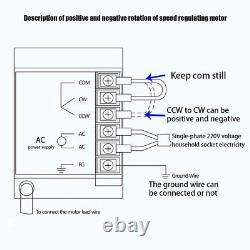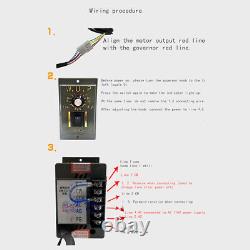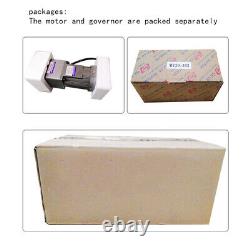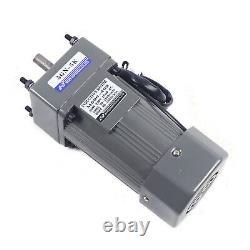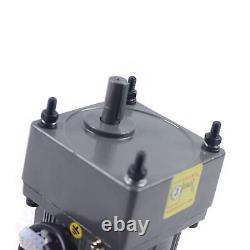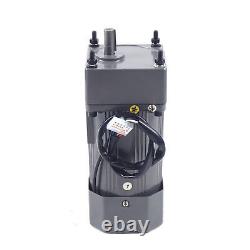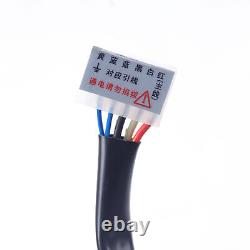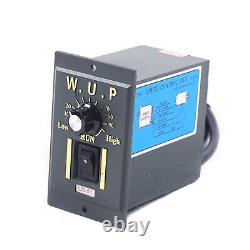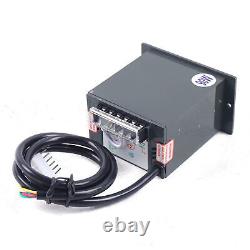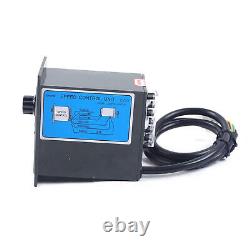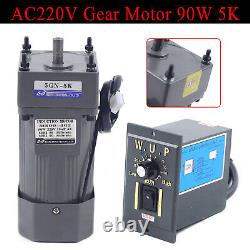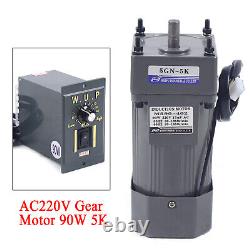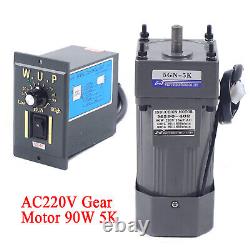 Specification: Name: AC gear motor Rated voltage: 220V Rated speed: 0-270 RPM Reduction ratio: 1:5(5K) Torque: 3.2nm Power Phase: single-phase Shaft diameter:12mm geared motor size:164MM 90MM 74MM Reducer size: 419074mm Features: Flexible installation Efficient works Torque large Smooth operation Long working life Packing list: 1 x motor 1 x reducer 1 x speed controller. 90W 220V AC Gear Motor Electric Variable Speed Reducer Controller 270RPM Torque.
220V 90W 5K Gear Motor Elektromotor Getriebemotor mit Drehzahlregler Einphasig. Unsere Produkte sind in zwei Pakete unterteilt.
Sollte Ihnen vorerst ein Paket fehlen, wenden Sie sich bitte an unseren Kundenservice, um zu prüfen, ob ein anderes Paket unterwegs ist. Hinweis: Bei unterschiedlichem Verzögerungsverhältnis ist die Abtriebswellendrehzahl unterschiedlich. Die Abtriebswellendrehzahl ist gleich der Motordrehzahl von 1350 U/min geteilt durch das Verzögerungsverhältnis. Um die Nichtanwendbarkeit des Motors zu reduzieren, urteilen Sie bitte nach dem Auswahlverfahren, bevor Sie die Bestellung aufgeben.
Beurteilen Sie zuerst den Verzögerungsbereich. 1 Die Geschwindigkeit liegt im sicheren Geschwindigkeitsbereich z. 315-450r, wählen Sie die Wattzahl entsprechend Ihrer tatsächlichen Belastung. 2 Die Geschwindigkeit liegt außerhalb des sicheren Bereichs z. 100-450r, wählen Sie das 2-3-fache Ihrer tatsächlichen Last. Wenn Sie beispielsweise einen 100-450R 15-W-Motor wählen möchten, müssen Sie jetzt einen 30-45-W-Motor auswählen. 1 Lastprodukt <1m, Wenn das Drehmoment 10nm beträgt, beträgt die Last im Allgemeinen? 2 Produkt laden > 1m, bitte konsultieren Sie uns. 1 Kontinuierliche Betriebszeit des Motors>4h, die Wattauswahl muss erhöht werden (Beispiel: Wenn Sie möchten, dass der Motor 5h kontinuierlich arbeitet, müssen Sie mehr Watt als Ihre tatsächliche Last wählen). 2 Kontinuierliche Arbeitszeit des Motors<4h, Wattauswahl muss nicht erhöht werden. Beurteilen Sie das Installationsformular (2 Arten im Allgemeinen).
1 Verwenden Sie direkt die Abtriebswelle, um die Last anzutreiben [dh die Last wird direkt auf die Welle aufgezwungen, was im Allgemeinen durch Vergleich der Daten in der Tabelle beurteilt wird, und der Unterschied ist nicht groß]. 2 Zweitens, Motor als Stromquelle, um eine ganze Ausrüstung anzutreiben es gibt viele Zubehörteile wie Rollen, Stangen usw. , die wir normalerweise 1-2 Mal größer anpassen müssen. Wenn Sie beispielsweise die zweite Installationsmethode wählen, möchten Sie zuerst einen 15-W-Motor, jetzt müssen Sie ein 30-45-W-Produkt auswählen.
Our products are divided into two packages. If you are short of one package for the time being, please contact our customer service to check whether another package is on the way.
Under different deceleration ratio, the output shaft speed is different. The output shaft speed is equal to the motor speed of 1.
0 rpm divided by the deceleration ratio. In order to reduce the inapplicability of the motor, please judge according to the selection process before placing the order.
Judge the deceleration range first. 1 The speed is within the safe speed range e.
315-450r, choose the wattage according to your actual load. 2The speed is outside the safe range (such as 100-450r), choose 2-3 times of your actual load. For example, if you want to choose 100-450R 15W motor, now you need to choose 30-45w motor. If the torque is 10nm, the load is generally? Continuous working time of motor.
1 Continuous working time of motor. 4h, Wattage selection needs to be increased. (For example: if you want the motor to Continuous work 5h, you need to choose lager watts than your actual load watts). 4h, Wattage selection no needs to be increased. Judge the installation form (2 kinds in general). 1 Directly use the output shaft to drive the load [that is, the load is directly forced on the shaft, which is generally judged by comparing the data in the table, and the difference is not big]. 2second, Motor as a power source to drive a whole equipment there are many accessories, such as roller, pole, etc. , which we usually need to match 1-2 times larger. For example, if you choose the second installation way, you want 15W motor first, now you need to choose 30-45W product. We are committed to providing customers with better and more favorable products! Thank you for your support! Feedback is very important to us. It is impossible to address issues if we do not know about them! Please keep the original box or packaging within 15days since item received. Your satisfaction is our ultimate goal.
We work hard to earn your trust and future business. A If you receive a defective item, you may return it or ask for a discount. Due to time zones, our reply to your questions may not be immediately. If it's non-workdays, please kindly be patient and wait till Monday.