Econo Flo Pump VSA Waterway in-ground pool 165 VARIABLE SPEED motor 230V 1.65 HP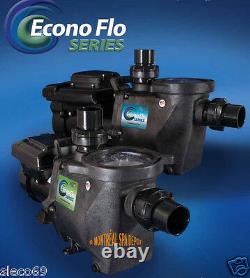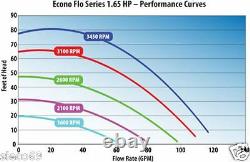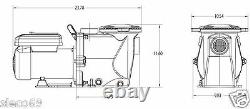 Waterway variable speed in-ground pool pump EconoFlo series model VSA165. Freeze Protection Program Memory Back-up. 2" Swivel slip Union (included) & 1.5" FPT. Adjustable Base (included) Easy replacement for most brand pumps. Important fact about variable speed motor: why it is so energy efficient & cost saving.
The amount of power required to move the water through the pipes drops much more quickly than the speed. While it may take one horsepower (1HP) to move the water through the pipes on high speed, it only takes 1/8 horsepower (1/8HP) to move one half (1/4) as much water through those same pipes on low speed. Even when run on low speed twice as long to pump the same amount of water as on high speed, the lower horsepower results in significant energy savings.
Designed with economy and ecology in mind. The Econo Flo Series of Waterway pumps offers a wide range of technology and performance suited to every pool need. Designed and manufactured in the USA, these pumps feature the quality, reliability and value of the highest American standards.
Econo Flo pumps are the right choice for the best in pool efficiency and economy. Waterway Econo Flo Pumps can save up to 90% on your pump energy cost while keeping your pool water cleaner, clearer and healthier.
The most efficient pool pump is the one that runs smartest at the minimum speed needed to get a job done. That's exactly what a Waterway Econo Flo Variable-Speed pump can do for you, making it the superior choice for energy-conscious pool owners. When using the low speed mode of Waterway Econo Flo Variable-Speed pumps, the water moves slower and thereby reduces the friction in the system piping. Reduced friction decreases the system back pressure and as a result the pump motor works less. A motor working less uses less energy.
Thats because it only takes a small amount of energy to keep water moving in a pool after the pump has been started. Remember, the faster you filter your pool the more energy you will use. Filter slowly and for a longer period per day and you can save up to 90% on your current electric pool costs while enjoying cleaner, clearer and healthier pool water. Century Motor VGreen 165 Built-in programmable user interface. Max Output of 1.65 THP.
ECM Design Program Memory Back-Up. UV and Rain-Proof Enclosure Keypad Lockout Digital Inputs for Third Party Automation VGreen 270 User Interface Compatibility. Item location: Montréal, Québec, Canada. COMPLETE GENUINE OEM PRODUCT FROM WATERWAY PLASTICS, Brand new object.
Xpresspost 1-4 days, all trackables. Expedited parcel USA 4-8 days, with tracking#.
Xpresspost USA 2-4 days with tracking#. CanadaPost + your local Postal services.
International surface/boat parcel - 4 to 7 WEEKS, with tracking#. Xpresspost International - EMS - 4-10 days, with tracking. The item "Econo Flo Pump VSA Waterway in-ground pool 165 VARIABLE SPEED motor 230V 1.65 HP" is in sale since Monday, January 27, 2020. This item is in the category "Maison et jardin\Jardins et vie extérieure\Piscines et piscines thermales\Matériel et pièces de piscine\Pompes de piscine". The seller is "sleco69" and is located in Montreal-Nord, Quebec.
This item can be shipped worldwide.
Marque: Waterway - EconoFlo series
Numéro de pièce fabricant: ECONOSVC-165
Volts: 230V
Power: 1.65HP MAX rated
variable speed motor range: 600-3450 RPM