CG Air variable speed BLOWER 750w motor 120V/1HP with 300w air heater & NEMA plug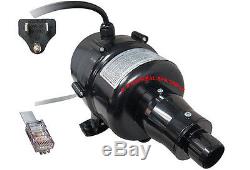 The benefits of the air massage are undeniable, but how does it work? The mechanism of the air massage system is truly simple. An air blower pushes air towards a distributor, which will direct the air through multiple jets strategically installed within the bathtub.
For additional comfort, the air is pre-warmed to body temperature through a heating element that is integrated within the blower. The air massage relaxes your muscles while stimulating the production of natural analgesic hormones known as endorphins. The use of an air massage system produces an effect of well-being throughout your whole body. The variable speed makes it completely adaptable to the users' needs whether offering a soft and caressing or a more vigorous effect.
Making this even more interesting is the possibility of adding other options that are available such as the wave effect where the speed alternates between strong and soft to create a very efficient lymphatic massage. The air massage offers the combination of the therapeutic elements necessary for optimal relaxation. WATER that offers the effects of weightlessness, relaxes muscles and articulations.
HEAT, that relaxes our body, makes us more receptive to the benefits of the massage and the movement of air that activates the lymphatic system and blood circulation. These three actions combined create an incomparable therapeutic effect and offer us physical relaxation while relieving sore muscles and pain related to arthritis, osteoarthritis, rheumatism and most other health traumatisms. Furthermore, you will enjoy a psychological release after a hard day of work by taking a well-deserved moment of relaxation. Surrounding massage: The air massage completely surrounds your body offering a thorough massage to every part of your body.
There are millions of preheated air bubbles that surround you and individually massage each part of your body. Stimulating massage: The massage created by air is very stimulating. It relaxes your body of the everyday tension and liberates stress in a very healthy way.
The variable intensity of the system enables us to decide what is needed to best suit our mood of the moment. Each blower we build is unique because each application it is used for is as unique. Some blowers will be installed in a spa and others in a bathtub. Some blowers can also be used to turbo-charge a whirlpool system or procure an air massage. There are so many different sizes and shapes of bathtubs and spas and so many different types of system installation... But we certainly have the blower that you need. No need for a complicated installation just to have more options. By simply plugging an electronic keypad into the high quality electronic control integrated directly within the blower, you have access to all the standard options and a bit more. From a low power relaxing massage to a much invigorating massage created through a high power air flow, the. Integrated control is completely variable.
So that the consumer can choose exactly what he needs. 300 watts ceramic air heater. 1-1/4 High temperature adapter for flexible hose, long life brushes.
Variable speed and pulsation modes. 1 minute purge cycle 20 minutes after the system has been turned off. Applications: Bath Tub & whirlpool bath.
Works only with topside control CLASSIC LED keypads Oval-A and Oval-L. (not included, see in my store). About CG Air Systèmes Inc. It was in 1991 that CG Air Systèmes Inc. Revolutionized the North American hydrotherapy market by introducing the first air massage system that was safe, hygienic and perfectly adapted to the North American requirements.
Had a vision of their own, which is offering manufacturers all necessary components for manufacturing of air system bathtubs. Since then, CG Air Systems Inc. Has expanded its range of products and now offer a vast range of components for various bathing massage systems and spas. Positioned itself on the hydrotherapy market by innovating, manufacturing and distributing components for massage systems.
Today, CG Air Systèmes Inc. Is present everywhere worldwide with adapted products.
To the specific needs of their customers. To the tendencies of each sector of the market. To the geographical requirements of the consumer.
From the very start of the company, CG Air Systèmes Inc. Has relied on values that have made it successful, such as. Being open-minded and listening to our customers. Innovating through development of new concepts. Having the concern of manufacturing high quality products.
Respecting relationships with our partners, our customers, our suppliers. Having the passion for our profession and the satisfaction of doing it well.
Proudly made in Ste-Marguerite, Québec, Canada. Item location: Las Vegas, NV. This blower is also available with 600watts ceramic air heater, see in my store. COMPLETE ORIGINAL PRODUCT FROM CG AIR SYSTEMES DIRECTLY, no refurbished items. + your local Postal services. The item "CG Air variable speed BLOWER 750w motor 120V/1HP with 300w air heater & NEMA plug" is in sale since Tuesday, December 6, 2016.
This item is in the category "Home & Garden\Yard, Garden & Outdoor Living\Pools & Spas\Spa & Hot Tub Parts". The seller is "sleco69" and is located in Las Vegas, Nevada.
This item can be shipped worldwide.
Brand: CG Air Systems
MPN: SLS-3-75-120/60AH-N+CG
Model: 1HP/120V
Country/Region of Manufacture: Canada