7.5KW 380V VFD Variable Frequency Drive Inverter Converter Motor Speed Control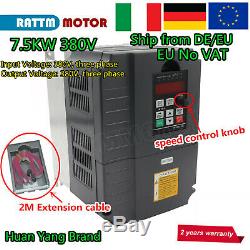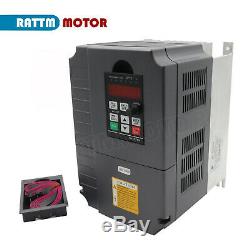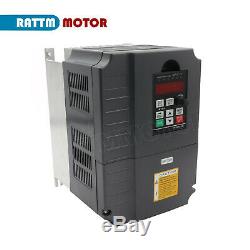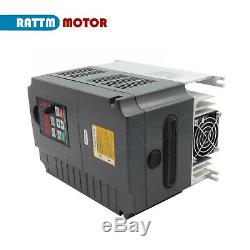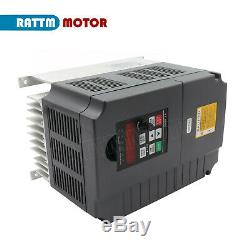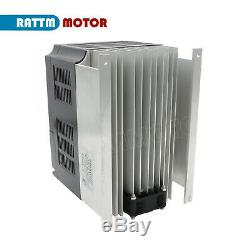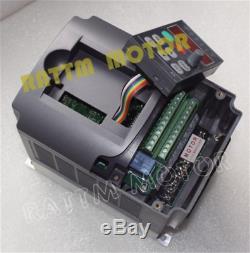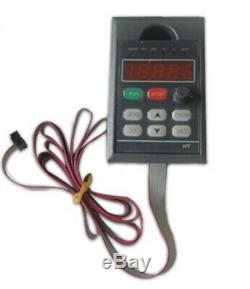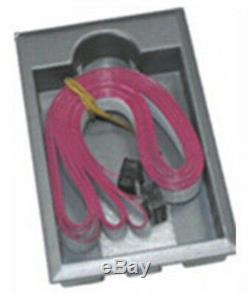 7.5KW 380V VFD Variable Frequency Drive Inverter Converter Motor Speed Control+2m Cable For CNC Router Engraving Milling Machine. Free Duty & Free VAT to below Europe Countries. A ustria, B elgium, B ulgaria, C zechRepublic, D enmark, E stonia, F inland, F rance, G ermany, G reece, H ungary, I reland, I taly, L atvia, L iechtenstein, L ithuania, L uxembourg, M onaco, N etherlands, P oland, P ortugal, R omania, S lovakia, S lovenia, S pain, S weden, S witzerland, U nited Kingdom.
1 x 2M Extension cable/control panel box. 1 x English user manual. 100% Brand New and High Qulaity!! 1 PID control; advanced calculus PID closed-loop arithmetic, quick responding speed and high suitability. 2 Easy PLC function can realize 16 legs of speed and inverter control function. 3 RS485 communication port, adopting standard international MODBUS main circuit control. 4 With extremely strong anti-jamming capability. 5 Low output ratting torque0.5HZ-150%, low speed running ability. 6 Carrier adjustable by 16KHZ, completely soundless working environment.
7 Broad voltage working area, normal running in 304V-456V. 8 Auto voltage regulation (AVR) technique, for ensuring the inverter load capability. 9 Various control technique by both synchronization and non-synchronization, dynamically realize fast starting without changing brakes. 10 With perfect error protection and short circuit starting protection capability. Input Voltage : 380V, three phase.
Output Voltage : 380V, three phase. Programmable Digital Input: Provide 7 terminals which can support ON-OFF inputs, 1 terminal which can support high speed pulse input and PNP, NPN. Programmable Analog Input: AI1 can accept input of -10V-10V, AI2 can accept input 0-10V or 0-20mA. Programmable Open Collector Output: Provide 1 output terminal (open collector output or high speed pulse output). Relay Output: Provide 1 output terminal. Analog Output: Provide 2 output terminal, whose output range can be 0/4-20mA or 0-10V, as chosen. Control Mode: V/F, Sensorless Vector Control (SVC), Torque control. Overload Capacity: 60s with 150% of rated current, 10s with 180% of rated current. Speed Adjusting Range: 1:100 (SVC). Carrier Frequency: 1kHz - 15.0kHz. Frequency reference source: keypad, analog input, HDI, serial communication, multi-stage speed, simple PLC and PID setting.
The combination of multi-modes and the switch between diffrent modes can be realized. Simple PLC, Multi-Steps Speed Control Function: 16 stages speed can be set. None-Stop when instantaneous power off. Speed Trace Function: Smoothly start the running motor. QUICK/JOG Key: User defined shortcut key can be realized.
Automatic Voltage Regulation Function (AVR). Automatically keep the output voltage stable when input voltage flucuating.
Fault protections: Protect from over current, over voltage, under voltage, over temperature, phase failure, over load etc. Control mode is SPWM, it is very easy to use and convenient. 2 Protection functions are very strong. 6 Restart after instant stop, stall protection. Mettalurgy, petroleum, chemical, textile, electricity, building material, coal, medicine, food, paper making, plastic, printing, lifting, cable, washing, water supply, HVAC, sewage disposal and other industries.
Machinery: CNC router, CNC machine, milling machine, drilling machine, wingding machine, mixer, extruder, slitter, winder, compressor, ventilator, pump, grinder, conveyor, elevator, centrifuger and other speed control machines. 5-Digits Display & Status Indicator Lamp. Displaying frequency, current, revolution, voltage, counter, temperature, FOR or REV rotation, and fault, etc. 0-95% Relative Humidity(without dew). Digital: 0.1%(-1040 Celsius Degrees); Analog: 0.1% (15Celsius Degrees---45Celsius Degrees).
Digital: 0.1Hz; Analog: 0.1% of max. Press directly keys to set. External Voltage 0-5V, 0-10V, 4-20mA, 0-20mA. Frequency lower limit, starting frequency, stopping frequency, three skip frequencies can be respectively set. Selectable 4-speed steps ramp-up and -down time (0.1-6500s).
Set V/F curve at will. Torque increase settable by max. The starting torque can reach 150% at 1.0Hz.
6 multi-function input terminals for 8speed steps control, program operation, switching of 4-speed Ramp, UP/DOWN function, counter, external emergency stop and other functions. 5 multi-output for displaying of running, zero speed, counter, external abnormity, program operation and other information and warnings. Auto Voltage Regulation(AVR), Decelerating Stop or Coasting Stop, DC Braking, Auto Reset and Restart, Frequency Track, PLC Program Control, Traverse Control, Drawing Control, Auto Energy Saving, Carrier Adjustable (Up to 20KHz), etc.
Electronic relay protection motor drive. Drivefor constant torque 150% per min. For the kinds of fan 120% per min. When the fuse breaks, the motor will stop. 220V class:DC Voltage >400V.
380V class:DC Voltage >800V. Restart with Frequency Track after Instant Stop.
Stall protection in ramp operation. Fin over-heat protection, restriction of reverse running, direct start after power on, fault reset, parameter lock PID, one-drive-more, etc. Item must be in it's original condition and no physical damage. The item "7.5KW 380V VFD Variable Frequency Drive Inverter Converter Motor Speed Control" is in sale since Friday, April 3, 2020. This item is in the category "Commercio, ufficio e industria\Automazioni, motori e driver\Driver e controllo movimento\Driver e controlli motore\Driver frequenza variabile". The seller is "powace08" and is located in Prague.
This item can be shipped to European Union member countries.
Input phase: 3 phase
Output Voltage: 380V+/-15%
Input Voltage: 380V+/-15%
Output Phase: 3 Phase
Input/Output Voltage: 380V+/-15%
Marca: RATTM MOTOR
Unità di misura: kg
Weight: 3.5kgs
Model: 7.5KW 380V VFD (HY)
Output Frequency: 0-400Hz
MPN: Non applicabile
VFD Brand: Huan Yang Brand
Extension cable: 2m Extension cable